Objection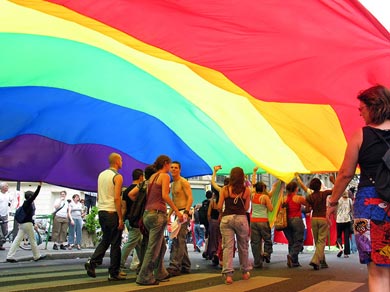 There was
this enormous parade in San Francisco today.
I am all for love, justice, solidarity, equal opportunities, and the honoring of human dignity among all people. I am all for compassion as a superceding political and social norm, ESPECIALLY according to the politics of our Lord. For these reasons, I hope that the good people who showed up in SF today will enjoy every grace of repentence for their healing and for the healing of our poor culture.
Human love is not the activity of a natural force or "right;" rather, it is the gift of self, governed and guided by regard for the other's benefit- and here I mean
CHASTITY
, that unique prerogative of the human person, that glorious, healing, life-giving thing which recognizes the valid duty of sexual self-expression only in the properly conjugal union that tends towards the human family. On the other hand: sheer natural force let loose on the other can only take the form of predatory feeding, and without the discipline of chaste love, expends the vulnerability of the other for the sake of a cancerous parody of gratification. Without discipline, without renunciation, without the stricture of chastity, the weak are crushed. And that is no "love" at all.