Meanwhile, back in Rwanda
I do some work for the World Youth Alliance every summer; it's how I keep my theology studies real. This summer, I am enjoying the stillness and beauty of Portsmouth Abbey and the enthusiasm of a group of amazing high schoolers, but in the past few summers, I have been in eastern Africa to work with our Alliance university students there. At all times and places, there is no joy like being part of the Church's gift of the whole Gospel to the world. Here is a retrospective list of my past blog posts from the other side of the globe- same globe, same Gospel.
With the Thomist scholar Josef Peiper, the World Youth Alliance teaches its young people that the ultimate fulfillment of the human person, the most powerful expression of being alive, happens in an instance of beholding... God.

En rout to Nairobi: From my airplane window, the clouds cluster here in a fantastic Saharan afternoon display- the way they do over tropical oceans- but here it is a sea of sand. These clouds... a breathtaking arrangement of shapes and shadows, from God's hands, cast over the sky for the handful of people who happened to be awake for it on the right-hand side of Swiss Air Flight 292. I saw one of the wakeful ones- he is African, just a little older than me- very young and lithe and intense, strained against his window with absolute focus to see the beauty out there. It was because of him that I took my own look out of my own window. It was because of him- he had the look of someone so very eager and alive- (God only knows why he is returning to Nairobi from Zurich- he hardly looks like a banker. A freedom fighter? A peace worker? A notorious advocate? A spy?)...
I had given up. We had already flown for two hours from Zurich over the awesome beauty of the Alps, over their cold little lakes, St. Moritz, the Badrutz Palace Hotel, over Lakes Como and Maggiore with their alfresco cafes, over the sparkling Mediterranean and a dozen Italian pleasure islands, (Capri? La Corse? It was the wrong side for Portofino) where countless yachts made white streaks in the water before the place where the water shone like clear turquoise near the shores- and then we were over Tunis and the Kufra basin and the touted desolation of Northern Africa, and then we knew that we were over war-torn Sudan, and you could see smoke in the air. I curled up tight for a nap then- my peculiar talent- because at least this present genocide, in the country thousands of miles beneath the plane, is not the fault of colonial blunders. There is nothing to be done- everyone says so. I certainly cannot jump off this plane and parachute through the atmospheres to rescue the children in Darfur (death and rape every minute)- can I? Oh, I can pray. I breathe something about "peace" and draw my cashmere wrap thing around me and I sleep deliciously for a while, and I dream something about having lunch with Larry King.
I am so glad that I woke up in time to see that young man (political asylum seeker?) straining against his window, loving the beauty of the ground and the sky so much. On this ground (it is soaked with blood) and on this sky (the sun can be merciless here and can kill young things) God writes His majesty. It will always be this way. Though the earth's crust here may be very thin, such that Hell breaks through so frequently (whether in the anguished violence of Darfur or in the trudging drudgery of daily poverty's burdens) it is uniquely here, on this continent, that God's children call to each other with shouts and stamping feet and glinting eyes and drum-beats that sound exactly like the human heart in the night. It is here too that the Lord goes forth with a shout. You should see the very clouds He casts.
This is why I come to Africa. I come to know the power of the Incarnation and the Resurrection in that thing- that resilience- of poor, powerful people. I wish to be taught by the posture of the young African man who studies this sky outside as though he need never look away- here is grace. It is as though he said to me, "this is beauty for ashes. This is the sound of a song in the night."
We are over Northern Uganda now.
There is the slender Nile that Livingstone found, snaking its way through all the trees. There are the lovely green hills were Joseph Konye tortures kidnapped children, at this moment, one by one, ideally four years old, so that they too can torture others and kill in his armies. It takes this plane just a few minutes to pass another place where Hell has broken through. Another place where God goes forth with a shout. I think that whatever sort of "parachute" God may choose to give to me for jumping off, for intervening, for joining His gracious onslaught on this country against its evil, I will take it.
Dear people, come to Africa. Get on a plane or send your dollars or write to someone in Washington who can make things happen. Do something. Respond somehow to these very real screams and tears. But do it for your own soul- there is absolutely nothing so exhilerating as extending yourself to see and to be where the gates of Hell cannot finally prevail.

Day II.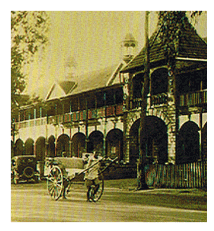 So this year Kigali is not so exotic as to prevent an internet connection. I hope to be posting almost every day on something discovered in Rwanda...
An
NGO
= "non government organization"- is one of those marvelous post-colonial inventions that provides an amiable outlet for those whose heart lies in Helping Others, while charmingly maintaining every bit of the otherwise gone and forgottten colonial life and aesthetic: range rovers, big gates with native porters, khaki, and the weekend getaway to Victoria Falls...all to be had on a missionary's salary. Evangelical kids really should just get over the terror that tends to accompany the thought that One Might Be Called To Africa...
All skepticism aside, today was spent consulting with WYA leaders and recruiting a handsome bunch of new members at the Kigali Technical Institute. In the meantime, the day was spent on a veritable tour of local NGO's for prospective partnership. The great ones that I really liked (for anyone who Might Be Called To Africa) are as follows-
1.
Trocaire
: the official overseas development agency of the RC in Ireland, "expresses the concern of the Irish Church for the suffering of the world'spoorest and most oppressed people." Trócaire's dual mandate is to support long-term development projects overseas and to provide relief during emergencies, and to inform the public about the root causes of poverty and injustice and mobilise the public to bring about global change.
2.
Open Arms International
: Met this enthusiastic non-dom American bunch at breakfast; they are a recently new outreach, and are doing great things in medical missions in Rwanda, Uganda, and Burundi. This seems to be the place for nurses, doctors, dentists, therapists, etc. I was very impressed: they "combine medical care and Christian ministry into a powerful combination that can deliver the healing touch of God." I plan to join them for their morning devotions at our hotel from now on.
3.
Hillsong
strikes again! A glance at this website will give you a clue as to the nature of the banners strung up all over town, because this mega church worship team is coming next month to set Rwanda on fire! Hmmm. I have mixed feelings. Rwandans KNOW how to worship, such that we westerners really have nothing to do but learn from them. That includes the 96% Roman Catholic population who are whooping and waving at Mass with the best of them. I've seen it!
Day III.

"And the people, when they saw Jesus, followed Him; and He received them, and He spoke unto them of the Kingdom of God, and He healed all who had need of healing." (Luke 9:11)
... just another bit of evidence for the intrinsic dignity of the human person, who is created in the image and likeness of God, and for whom Christ gave His life. As we tell our Rwandese:
"Every human being has an intrinsic and inalienable dignity that begins at conception and extends through our natural lives until natural death. This dignity, the most precious endowment of the human person, is involiable. The dignity of the human person must be cherished in custom and protected by law. We recognize that the intrinsic dignity of the person is the foundation of every human right, and is independent of any individual condition. No human community can grant or rescind that dignity... we invite all those who share these convictions to join us in affirming them and to give them effect in public life at all levels."
-The World Youth Alliance Charter.2 and Declaration on the Human Person.1.
(
We have spent productive hours today newtorking our Rwandan World Youth Alliance chapter with local NGO's and consulting firms, and then an afternoon around the table on the hotel "terrace" hashing out the nuances of our WYA principles, as applied to prospective initiatives against the spread of HIV/AIDs. Our young people are amazing! They inspire me more than I could ever say.
)
Day IV.

The directors of WYA- Africa and I spoke to an audience of over five hundred university students today in the NW province of Rwanda called Gisenyi, and after a productive presentation which resulted in our doubling our Rwandand membership (!) we celebrated with a lot of chicken stew eaten with our hands for lunch, and a motorbike ride along the beautiful shores of Lake Kivu, over the Congo border into Goma. What a wonderful day!
During my talk on the solidarity of persons as the foundation for social progress, a Rwandan man raised his hand for a question. I have anticipated this for years, but I still wanted to cry when he raised the quiet, ever-present issue: "who are
you
to presume to propose these notions to us?Who are
you
to show up from the West to deliver these ideas, when the West destroyed our culture through colonialism and the slave trade in the first place? Who are
you
to speak to us about "solidarity" when solidarity was made impossible in Rwanda by the colonists of
your
culture? Indeed, how can you speak about solidarity without first offering an apology for these historical offenses?"
It was a just and dreaded onslaught of issues. I have written and studied so much about this sort of thing from the comfort of a library, but when the issue was addressed to me, in front of hundreds of my peers, when I stood for the bad guy who had oppressed and abandoned the innocent in the eyes of hundreds of genocide survivors, I felt incredibly defensive as the tears welled up. I waited while two gracious members of our Rwandan panel took the microphone and explained the apparent fallacies in the young man's questions. But I knew what had to be done.
There can be no "solidarity" without reconciliation. As Christians, we are they who agree quickly with their adversarys while we are on the way because we long most of all persons for the unity of Christ's re-creation. I had to swallow up the fact that I personally had little in particular for which to apologize; I asked that young man to consider me a representative of the West, and I asked him to give to us the gift of his forgiveness.
There was a thunder of applause. I suppose the Rwandans had been waiting for that.
Day V.

Our young men of The World Youth Alliance in Rwanda amaze me. They are articulate, committed, and full of joy. They are strong, slightly wild, and they care for we women of WYA International like queens. It is therein that they demonstrate the purest and noblest kind of manhood... in the promotion of their sisters. They have deliberately placed capable young women in prominent places in our five-hundred member national chapter, and they beam with pride at the results of their initiative: young Rwandan women who can reason thoroughly and speak clearly on the most serious political/social issues facing the future of their families, and who will thus form and restore their culture for those they love. In a country where the average university classroom contains a student population that is 99% male, our young men have tackled this disparity because they realize that the future of Rwandan culture is in the hands of those who rock the cradle and teach toddlers. Just today, in a classroom full of men, a new male recruit urgently asked us "what are your goals for increasing women's participation in society?"... and then he asked one of our young women trainees to respond. Our young men take seriously their responsibility to
invite
their women to flourish, and it is working.
Even above and beyond this call of duty, our young men have taken on the call of James 1: true religion lies in the practical care of widows and orphans. Last summer, our young men insisted that a good part of our training seminars be devoted to the issue of genocide widows and their practical needs. This year, their hearts have turned towards the child orphans of Rwanda, and after a networking visit today with a fabulous NGO called simply "
Orphans of Rwanda
," our young men are making plans to send our WYA young people out as formal mentors for these precious children. Along the way, we plan to teach them to dance, to sing, to sew and chop wood, to laugh with the best of them, and to plan to do anything.
Day VI.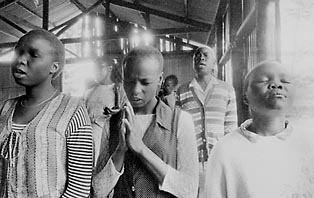 We teach our young people of the World Youth Alliance that the monumental changes that lead to authentic improvements in the developing world happen slowly, beginning with the the heart of the individual person and extending from his conversation and committments to the rest of the culture, such that little by little, political changes must follow. In the words of Vaclav Havel, author of "The Power of the Powerless," transformation begins in the small places, in the hidden gestures, in the tiniest assent to living according to the truth. It seems so often that this is the way that God works too. Certainly His work is steady, progressive, and "small" in the tiny nation of Rwanda. His gestures are wonderful. Yesterday, I was struck by two instances of God's restoration here.
First, our Nairobi staff were invited yesterday to broadcast an address to young people over the national radio. Bear in mind that the KLM radio station of Rwanda was the major networking tool of the Hutu Power/Interhamwe genocide, in which a million people were killed in three months- just twelve years ago. Yesterday, that same radio station became the voice of young people eager to serve one another by building a culture of life.
Secondly, some friends and I traipsed over to the national stadium last night for the Hillsong worship concert. During the 1994 genocide, thousands of people had clustered there under the frantic watch of ill-equipped UN peacekeepers, and there hundreds of men, women and children died from starvation, disease, or Interhamwe assaults. Last night, thousands of former enemies were gathered to worship God together. My friends and I realized the enormity of the fact that yesterday (a very tense national "holiday," since all Rwandans had to appear for jury duty under pain of arrest) was the final national trial of persons accused of genocide. So, many of the people who had to deal with justice in the morning were gathered to praise God for His awesome forgiveness in the evening. What a very clever God we have.
And finally, there is that weekly moment of celebration every Sunday in the enormous cathedral of St. Famille; although almost every Rwandan living in the capital city has tragic memories of failed asylum in that building, on its altars the greatest gift of love ever made still recurs again and again... and the faithful are there to taste and to see. It is the most beautiful thing- during the Eucharist, the Rwandese do not stand in hushed silence nor do they kneel in prayer- rather, the Rwandese shout for joy and applaud.
To be continued...