MM's Out of Africa: An NGO Safari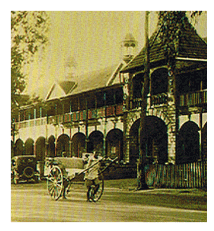 So this year Kigali is not so exotic as to prevent an internet connection. I hope to be posting almost every day on something discovered in Rwanda...
An
NGO
= "non government organization"- is one of those marvelous post-colonial inventions that provides an amiable outlet for those whose heart lies in Helping Others, while charmingly maintaining every bit of the otherwise gone and forgottten colonial life and aesthetic: range rovers, big gates with native porters, khaki, and the weekend getaway to Victoria Falls...all to be had on a missionary's salary. Evangelical kids really should just get over the terror that tends to accompany the thought that One Might Be Called To Africa...
All skepticism aside, today was spent consulting with WYA leaders and recruiting a handsome bunch of new members at the Kigali Technical Institute. In the meantime, the day was spent on a veritable tour of local NGO's for prospective partnership. The great ones that I really liked (for anyone who Might Be Called To Africa) are as follows-
1.
Trocaire
: the official overseas development agency of the RC in Ireland, "expresses the concern of the Irish Church for the suffering of the world'spoorest and most oppressed people." Trócaire's dual mandate is to support long-term development projects overseas and to provide relief during emergencies, and to inform the public about the root causes of poverty and injustice and mobilise the public to bring about global change.
2.
Open Arms International
: Met this enthusiastic non-dom American bunch at breakfast; they are a recently new outreach, and are doing great things in medical missions in Rwanda, Uganda, and Burundi. This seems to be the place for nurses, doctors, dentists, therapists, etc. I was very impressed: they "combine medical care and Christian ministry into a powerful combination that can deliver the healing touch of God." I plan to join them for their morning devotions at our hotel from now on.
3.
Hillsong
strikes again! A glance at this website will give you a clue as to the nature of the banners strung up all over town, because this mega church worship team is coming next month to set Rwanda on fire! Hmmm. I have mixed feelings. Rwandans KNOW how to worship, such that we westerners really have nothing to do but learn from them. That includes the 96% Roman Catholic population who are whooping and waving at Mass with the best of them. I've seen it! Hopefully Hillsong will have the good grace to incorporate their distanced RC brethren in Christ in their outreach to this teeny country.