The Martyrs of Japan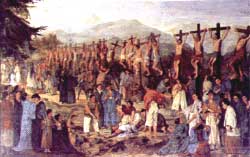 "
Blessed be the Lord God of Israel, for He has visited and redeemed his people ...Holy, Holy, Holy... Praise, O ye servants of the Lord, praise the name of the Lord... From the rising of the sun unto the going down of the same, the Lord's name is to be praised.
"
- these are the last words of one of the 16th century Jesuit missionaries crucified in Japan for their profession. Read more about these heroes, who died in love and forgiveness,
here
-
Please join me in prayer for the unbinding of the Gospel in this nation in modern times.